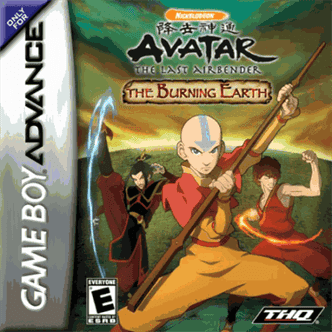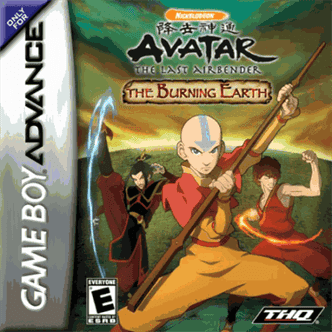 Avatar: The Last Airbender: The Video Game (known as Avatar: The Legend of Aang in Europe) is a video game based on the animated television series of the same name. It was released for the Game Boy Advance, Microsoft Windows, Nintendo GameCube, Nintendo DS, PlayStation 2, PlayStation Portable, Wii, and Xbox. The game was followed by a sequel, Avatar: The Last Airbender – The Burning Earth, in 2007.
The game was a launch title for the Wii in Western territories.
The main playable characters in the Avatar: The Last Airbender video game are Aang, Katara, Sokka, and Haru, the former three of which are main characters in the television series the video game is based on.
Aang is the fun-loving, 112-year-old protagonist of the video game, he was frozen in an iceberg for a century. He is the current incarnation of the Avatar, the spirit of the planet manifested in human form. As the Avatar, Aang must master all four elements to bring peace to the world and restore the balance between the four nations. Aiding him is the 14-year-old Katara, the sole remaining Waterbender of the Southern Water Tribe, and her brother Sokka, a 15-year-old warrior of the Southern Water Tribe. Haru is a young Earthbender who helps the gang in their mission to save a missing friend. Many characters from the show appear on this game such as Prince Zuko, who has a minor role in the game, only appearing in cutscenes; King Bumi, who appears in the fourth level.
Story
While training in the North Pole, Aang and Katara hear reports of a waterbender, Hiryu, going missing, which they investigate. They arrive at the Water Tribe as a Fire Nation ship attacks, led by Prince Zuko. They are able to fend off the attackers, but Katara is captured during the battle. Aang and Sokka follow the ship, but are slowed by a Firebending machine.
They follow the ship to an Earth Kingdom port. They slip into the jail and free Katara, who informs them of another prisoner named Lian the Maker, who is being forced to make machines for the Fire Nation. When they arrive at Lian's cell, they find it empty, except for a map to an Earth Kingdom village.
They find the village under attack by machines. After fending off the machines, picking up Haru and being informed that one of his earthbending friends Yuan was kidnapped, they travel to the library of Omashu for clues to where the machines might originate from. The information from the library leads them to an uncharted island.
Download ROM