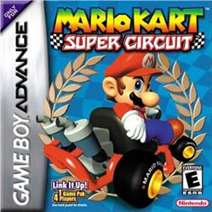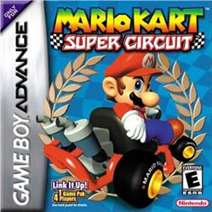 Mario Kart Super Circuit
Mario Kart: Super Circuit, known in Japan as Mario Kart Advance (マリオカートアドバンス Mario Kāto Adobansu), is a kart racing game developed by Intelligent Systems and published by Nintendo for the Game Boy Advance in 2001. The game is the third installment in the Mario Kart series and the first for handheld consoles, following Mario Kart 64 (1996). It was succeeded by the console game Mario Kart: Double Dash, which was released for the GameCube in 2003. The game retains traditional game elements of Mario Kart set by its predecessors, and upon release, was well received by reviewers.[1]
Super Circuit is a kart racing video game in which the player races in a kart against other teams in different courses. The game screen indicates the current standings in a race, the number of laps needed to finish and incoming weapons. Like in the previous installments, players can pick up item boxes to receive a randomly selected item and use it to impede the opposition and gain the advantage. Some items, such as shells and bananas, allow the player to hit others to slow them down, while other items, such as the star power-up, render them temporarily invincible to attacks. This is the second Mario Kart game to include coins, which increases the engine power of the karts.
Game modes
There are five game modes in Super Circuit: Mario GP, Time Trial, Quick Run, VS and Battle. Most of the modes can be played by themselves in single-player races, while some can be played in multiplayer.
Download ROM