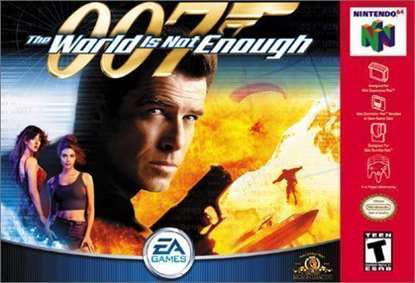 The World Is Not Enough is a first-person shooter video game developed by Eurocom and based on the 1999 James Bond film of the same name. It was published by Electronic Arts and released for the Nintendo 64 on October 17, 2000, shortly before the release of its PlayStation counterpart. The game features a single-player campaign in which players assume the role of MI6 agent James Bond as he fights to stop a terrorist from triggering a nuclear meltdown in the waters of Istanbul. It includes a split-screen multiplayer mode where up to four players can compete in different types of deathmatch and objective-based games.
The game runs on an engine that was adapted to take advantage of the Nintendo 64 strengths. Although Eurocom used original production material to recreate the environments of the film, the company added elements to help the game design, including a mission which takes place in the London Underground. The game supports the Nintendo 64 Expansion Pak, which provides enhanced graphics and visual effects, but a Controller Pak is required to save the player's progress through the game.
The World Is Not Enough received generally positive reviews from critics and was frequently compared to Rare's Nintendo 64 first-person shooters GoldenEye 007 and Perfect Dark. It was also considered superior to its PlayStation counterpart because of its level design and inclusion of a multiplayer mode. Critics generally praised the game's graphics and smooth frame rate, but criticized its weak and inconsistent enemy artificial intelligence. In the United States, the game sold more than one million copies.