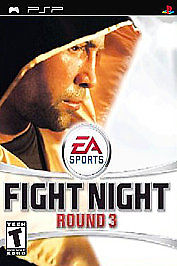 Fight Night Round 3 is a boxing video game developed by Electronic Arts. It is the sequel to EA Sports' previous boxing title, Fight Night Round 2, which was released in 2005. Fight Night Round 3 was released on February 20, 2006 for the Xbox, Xbox 360, PlayStation Portable and PlayStation 2. The Mobile phone version was released on November 30, 2006,[1] and the PlayStation 3 version was released five days later.
Overview
Fight Night Round 3 was developed by EA Chicago, formerly NuFX. It is the third boxing title in the Fight Night franchise. It features the usual improvements such as better graphics and gameplay. "Impact Punches" are one of the most drastic changes, along with ESPN Classic fights and a new career mode, in which the player fights to gain popularity in order to reach sponsored fights, or to be featured on ESPN. Unlike in older versions, Round 3 defaults without a heads-up display (HUD), allowing a player to judge the status of their stamina and energy based on their stance, movements, and facial features, instead of the usual stamina meter. The roster consist of 27 licensed fighters, Fight Night Round 3 allows open weight bouts. This means everyone on the roster can fight one another in exhibitions. The official roster allows recreations of such fights as James Toney vs. Roy Jones Jr.
Versions
The game has been released for several video game consoles and some differences exist between the versions. The cover art features Arturo Gatti and Micky Ward on the PS2 and Xbox versions. The PS3, Xbox 360, and the PSP versions have Oscar De La Hoya on the cover. Only the PS3 version can be played in a first-person view. The PS3 version omitted Evander Holyfield from the roster.
Theme song
The theme song for this game is "Never Gonna Get It" by Sean Biggs, featuring Akon and Topic.
Venues
The game features recreations of real-life venues such as the Staples Center and Madison Square Garden.