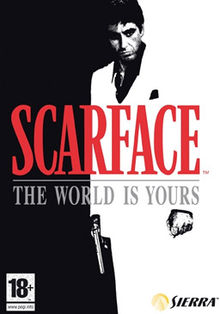 Scarface: The World Is Yours is a 2006 open world action-adventure video game developed by Radical Entertainment for PlayStation 2, Xbox and Windows published by Vivendi Games. In 2007, a version with enhanced graphics was released for the Wii. An Xbox 360 version was also being developed, but was cancelled.
The game is not a direct adaptation of the 1983 film directed by Brian De Palma, but is instead a pseudo-sequel which changes the ending of the film so that Tony Montana (originally played by Al Pacino) survives, and sets about exacting revenge on those who ousted him from power by re-establishing his drug empire in Miami. The game features Al Pacino's likeness in the character of Montana, but Pacino does not voice the character, as he and the game's producers felt his voice had changed too much since 1983. Instead, Montana is voiced by André Sogliuzzo, who was personally selected by Pacino himself. Actors from the original film who did voice work for the game include Steven Bauer, Robert Loggia and Al Israel.
The game received mixed to positive reviews, with many critics comparing it favorably to both 2002's Grand Theft Auto: Vice City (which itself was influenced by the Scarface film[5]) and 2004's Grand Theft Auto: San Andreas. It was also praised for maintaining the tone of the film, for its humor, and for the accuracy of the depiction of Montana himself. The game was also a commercial success, selling over one and a half million units across all platforms.