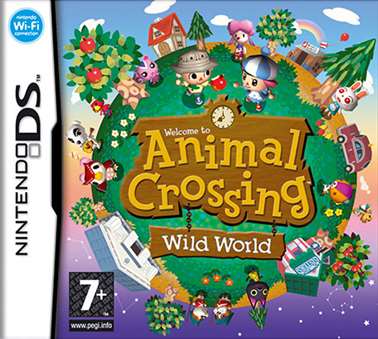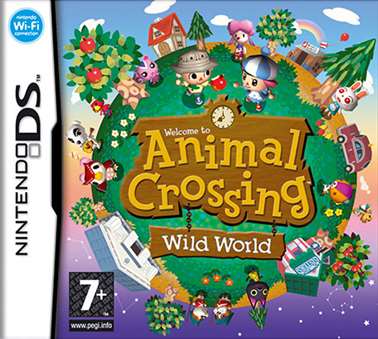 Animal Crossing: Wild World (おいでよ どうぶつの森 Oideyo Dōbutsu no Mori, "Animal Forest: Come Here") is a 2005 social simulation video game developed and published by Nintendo for the Nintendo DShandheld game console, and is the second game in the Animal Crossing series.
Wild World focuses on living in a remote village populated with anthropomorphic animals, where the player is encouraged to perform any number of tasks, such as collecting and planting. Like all Animal Crossingtitles, the game is synced to the console's clock and calendar, allowing the game to be played in real-time, which affects the occurrence of in-game events based on the current time of day or season. Wild Worldalso utilizes Nintendo Wi-Fi Connection, which notably allows players to travel and visit the villages of other players via online play.
The game received positive reviews upon release, gaining aggregate scores of 86 and 86.46% on Metacritic and GameRankings.[1][2] Wild World is the ninth best-selling game on the Nintendo DS with 11.75 million copies sold worldwide as of March 31, 2016.[3]
Wild World was additionally released to the Wii U Virtual Console on October 13, 2016.
The Player talking to Pierce, who is one of the villagers
Like all games in the Animal Crossing series, Wild World is an open-ended game in which the player assumes the role of a human who has moved into a village populated with anthropomorphic animals. During his/her time spent in the village, the player is able to perform a number of various activities, such as collecting items, fish and insects, or socializing with the village's residents.[4] The game is synchronized with the Nintendo DS clock and calendar, allowing the game to be played in real-time. For example, both daytime and night will occur in the village depending on the current hour, and snow will fall during the cold months. Different events occur at particular times of the year, such as holidays and the variation of collectible fauna depending on the month or season.
Wild World features a high level of customization. The player character's appearance can be modified to the player's preference: it can be dressed from a large selection of available clothes and accessories, or players can design new clothing patterns from scratch with help from the village tailor, Able Sisters. The environment itself can be modified: trees can be grown or chopped down in any part of the village, and the players share a house that can be furnished with collected furniture and items. Wild Worldalso adds the ability to draw constellations that are visible in the night sky.
Wild World utilizes the two screens of the Nintendo DS in various ways. The game allows players to interact via the system's touch screen, which is used to manage inventory, write messages, draw designs for clothes, or control the player character.[5] Unlike the previous iteration which had used a top-down perspective, Wild Worldallows both the ground and sky to be visible at the same time on each of the screens, allowing the players to view events occurring in the sky without needing to switch perspectives. This is done by using a "rolling log" effect, in which the terrain seems to bend and roll beneath the player's feet when travelling about the village