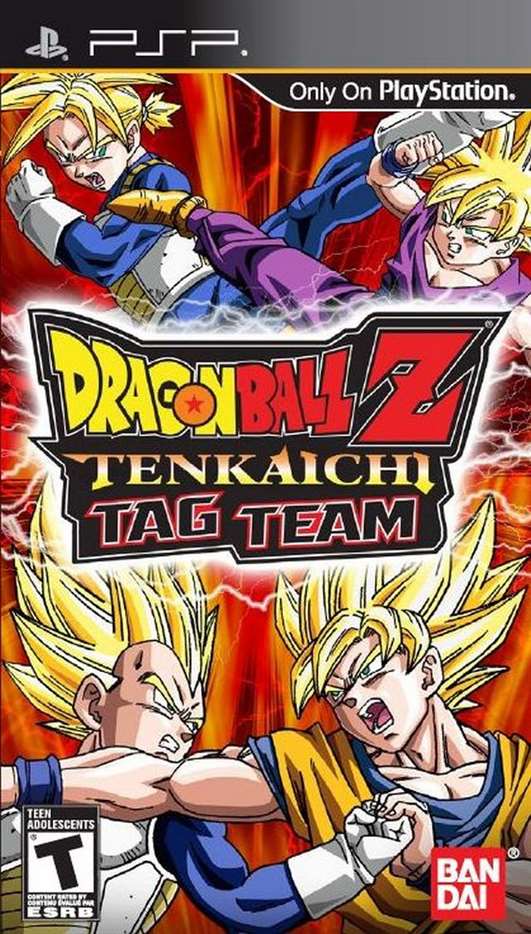 Dragon Ball: Tenkaichi Tag Team (ドラゴンボール TAGタッグ VSバーセス Doragon Bōru Taggu Bāsesu, lit. "Dragon Ball Tag VS") is a PlayStation Portable fighting video game based on Dragon Ball Z.
The game features high-impact two vs. two combat. It is the third Dragon Ball Z game for the PlayStation Portable, and the fourth and final Dragon Ball series game to appear on said system.
The game was released on September 30, 2010 in Japan, October 19, 2010 in North America, October 22, 2010 in Europe and sometime in October 2010 in Australia. It was re-released in Japan on the PSP's The Best line on July 12, 2012.
Dragon Ball Z: Tenkaichi Tag Team is the first Tenkaichi game to be featured on the PSP. A demo was released on PSN on October 19. It featured Goku, Vegeta, Piccolo, Krillin, Android 19 and Dr. Gero as playable characters.
Tenkaichi Tag Team is the first Tenkaichi game that does not include characters from Dragon Ball GT and Dragon Ball, but it is the first Dragon Ball Z game to feature the cast of Dragon Ball Z Kai.
It is also the first Tenkaichi game to feature 1 vs 2, 2 vs 1 and 2 vs 2 battles, beside the general 1 vs 1.
Key Features
Over 70 deeply customizable characters.
10 different stages.
Character customization.
Dragon Ball Z Kai voice acting.
Incredibly deep combo system.
1 vs 1, 1 vs 2, 2 vs 1 & 2 vs 2 battles.
Complete Tenkaichi experience on PSP.
High-Impact battles.
Consists of Blow Exchange and Shot Exchange.
In-game transformations.
Three Super Blast moves or combat moves for all characters.
Dragon Walker, Battle 100 and Survival modes.