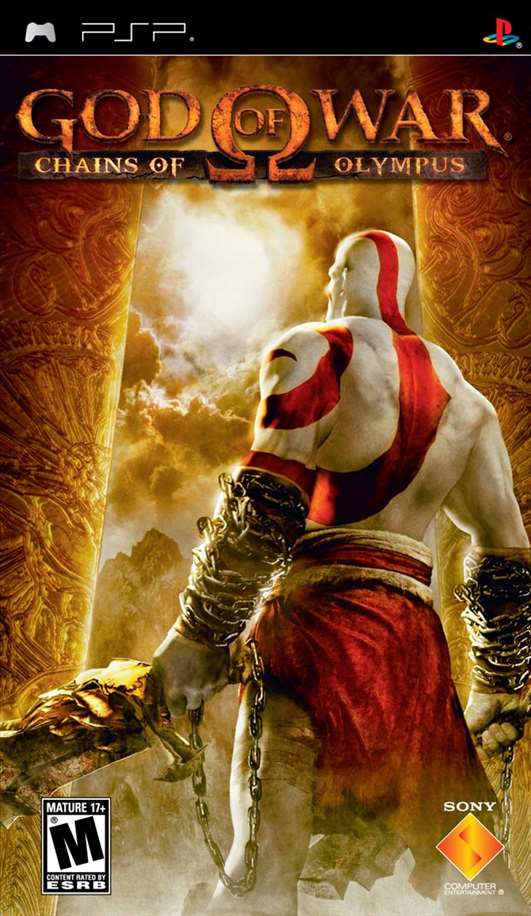 God of War: Chains of Olympus is a third-person action-adventure video game developed by Ready at Dawn and Santa Monica Studio, and published by Sony Computer Entertainment (SCE). It was first released for the PlayStation Portable (PSP) handheld console on March 4, 2008. The game is the fourth installment in the God of War series, the second chronologically, and a prequel to the original God of War. It is loosely based on Greek mythology and set in ancient Greece, with vengeance as its central motif. The player controls Kratos, a Spartan warrior who serves the Olympian Gods. Kratos is guided by the goddess Athena, who instructs him to find the Sun God Helios, as the Dream God Morpheus has caused many of the gods to slumber in Helios' absence. With the power of the Sun and the aid of the Titan Atlas, Morpheus and the Queen of the Underworld Persephone intend to destroy the Pillar of the World and in turn Olympus.
The gameplay is similar to the previous installments, with a focus on combo-based combat, achieved through the player's main weapon—the Blades of Chaos—and secondary weapons acquired throughout the game. It features quick time events that require the player to complete game controller actions in a timed sequence to defeat stronger enemies and bosses. The player can use up to three magical attacks as alternative combat options. The game also features puzzles and platforming elements. The control setup was reconfigured for the PSP, as it has fewer buttons than the PlayStation 2's controller. Ready at Dawn's solution for the controls received praise from critics.
Debuting at No. 5 on the North American charts, Chains of Olympus achieved the highest composite score for a PSP title from Metacritic and GameRankings. 1UP stated that the game is "a technical showpiece for Sony, and arguably the best-looking game on the system."[1] It won several awards, including "Best PSP Action Game", "Best Graphics Technology", and "Best Use of Sound". In September 2010, GamePro named Chains of Olympus the best PSP game. By June 2012, the game had sold 3.2 million copies worldwide, making it the fourth best-selling PlayStation Portable game of all time. Together with God of War: Ghost of Sparta, Chains of Olympus was remastered and released on September 13, 2011, as part of the God of War: Origins Collection for the PlayStation 3 (PS3). The remastered version was included in the God of War Saga released on August 28, 2012, also for PlayStation 3.
Size: 1.1 GB