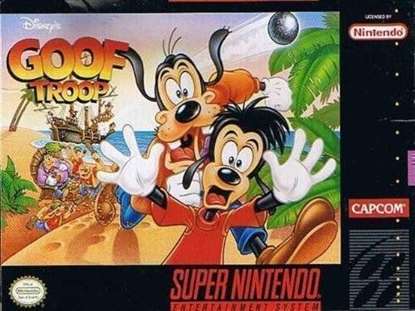 Goof Troop
Goof Troop is an American animated comedy television series produced by Walt Disney Television Animation. The series focuses on the relationship between single father Goofy and his son, Max; as well as their neighbors Pete and his family. Created by Peter Montgomery, the main series of 65 episodes aired in first-run syndication from 1992 to 1993 on The Disney Afternoon programming block, while an additional thirteen episodes aired on Saturday mornings on ABC. A Christmas special was also produced, which aired in syndication on November 1, 1992.[1] Walt Disney Pictures released two films based on the television series: the theatrical A Goofy Movie, released on April 7, 1995; as well as the direct-to-video sequel and television series finale An Extremely Goofy Movie, released on February 29, 2000.
Goof Troop bears similarity to several early-1950s Goofy cartoon shorts which depicted Goofy as a father to a mischievous red-haired son.
Goofy, a single father, moves back to his hometown of Spoonerville with his son, Max. As it happens, Goofy and Max end up moving in next door to Goofy's high school friend: Pete, a used car salesman and owner of Honest Pete's Used Cars; Pete's wife Peg, a real estate agent; and their two children, son P.J. (Pete Jr.) and younger daughter Pistol. Max and P.J. become best friends and do practically everything together. A large portion of humor comes from the relatively normal Max's personality sharply contrasting with his father.
Broadcast history and feature films
Goof Troop was originally previewed on The Disney Channel from April 20, 1992 into July 12 of that year. Like its predecessors DuckTales, Chip 'n Dale Rescue Rangers, TaleSpin and Darkwing Duck and its successor Bonkers, Goof Troop was previewed in syndication (on September 5, 1992) with a pilot TV movie, which later aired as a multi-part serial during the regular run. The series aired on The Disney Afternoon block of syndicated animated series during the 1992/1993 broadcast season; concurrent with the Disney Afternoon shows, another 13 episodes aired on Saturday mornings on ABC in 1992. Reruns of the series later aired on The Disney Channel (starting on September 3, 1996),[4] and later on sister cable channel Toon Disney. Reruns were shown on Toon Disney until January 2005. The program made a return from September 2006 until August 2008, and the Christmas special still aired on Christmas (although it is unknown if the special will ever be shown on Toon Disney's replacement Disney XD) in the United States.