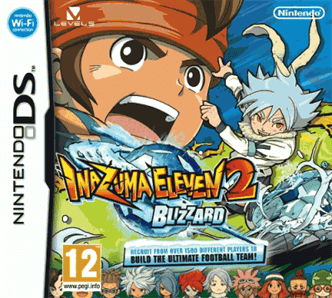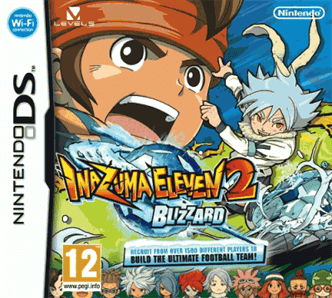 Inazuma Eleven 2 (イナズマイレブン2 脅威の侵略者 Inazuma Irebun 2: Kyoui no Shinryakusha, lit. "Inazuma Eleven 2: The Threat of the Invader") is a role-paying and sports video game for the Nintendo DS developed and published by Level-5. It was released on October 1, 2009 in Japan, and was released on March 16, 2012 in Europe.[2] There are 2 versions of the game, Firestorm (Fire in the Japanese version) and Blizzard.
Both versions of this game were included in an updated re-release compilation titled "Inazuma Eleven 1-2-3: Endo Mamoru's Legend" for the Nintendo 3DS, released on December 27, 2012 exclusively in Japan. This version has never been released outside Japan as of yet.
A direct sequel to the game titled Inazuma Eleven 3: Sekai e no Chousen has been released in Japan for the Nintendo DS. A manga based on the game began serialization in CoroCoro Comic on May 15, 2008, while an anime based on the game, produced by OLM, started airing on August 22, 2008.
Synopsis
The main character, Mark Evans (円堂 守 Endō Mamoru), is a very talented goalkeeper. He plays for his high school's soccer team called Raimon Junior High, which has just won the Football Frontier. One day, the aliens from Alius Academy, a mysterious school that trains its students into making soccer a tool to destroy other schools, approach and wreck Raimon Junior High, sending the Raimon Eleven into a journey to stop the aliens, the soccer team named Gemini Storm, with Raimon Eleven's last gift, the van called Inazuma Bus. The heroes have to travel around Japan, recruit new players, seek the secret behind the Alius Academy and save Japan from being destroyed.
Characters
Main article: List of Inazuma Eleven characters
Gameplay
Story mode
The game is fundamentally the same as the first one; players take control of Mark and his team in an overworld collecting items, improving stats at training points and partaking in random encounters. Scouting and recruiting players has been moved to the Inazuma Bus, where players can contact Coach Hillman to search for people by name or other criteria. The connection map is also located on the bus, in the form of a small machine at the front.
The main hub of the game is the aforementioned Inazuma Bus, where players can restore their FP and TP, as well as travel to other regions of Japan. The game contains nine regions to explore in total, each with its own story arc and set of players to collect. These regions are unlocked as the story progresses.