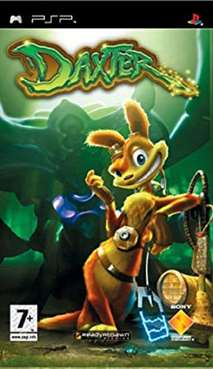 Brought to you by Ready At Dawn Studios' Daxter is tailor-made for the PSP, capturing all the fun, style, great gameplay and wit of previous Jak and Daxter titles.
The story takes us back to the events that led to the start of Jak IITM. Jak has been imprisoned in Haven city jail, Daxter now on his own in an unfamiliar position, quickly realises that being small and furry won't help his chances of survival and it is time to get tough!
Daxter takes on a job as a pest exterminator to help stamp out a mysterious bug infestation, this new job allows Daxter freedom to roam across Haven City collecting information that could lead to the release of his incarcerated friend. However Daxter soon discovers that he'll get a little more excitement from his job than he originally bargained for!
Being a pest exterminator is hard work and a work shy Ottsell can't be expected to wipe out an entire infestation without conserving energy with some well timed naps can he?! As Daxter takes time off his bug squashing duties he invites you into his dreams where he is the hero in several playable movie themed mini games.
Daxter also features cross platform compatibility with Jak X on PlayStation 2, allowing gamers who own both titles to unlock new content. With over 17 levels and 13 minutes of hilarious cut scenes, this title is guaranteed to take gamers on a classic platform adventure.
Use Daxter's swatter and bug spray gun for unique gaming mechanics

Go into Animal Mode so Daxter can climb walls and creep up on enemies

Learn the background of how Daxter spent 2 years in Haven City and how he managed to free Jak

Connects to PS2 through USB, for combined gaming — use the PSP to unlock drivers, vehicles and graphics for Jak X – Combat Racing or connect to their PS2 to open up secret features in Daxter