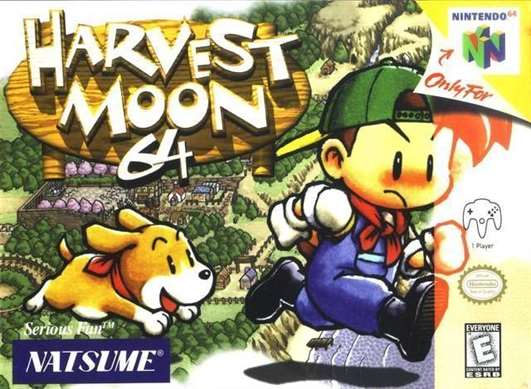 Harvest Moon 64, released in Japan as Bokujō Monogatari 2 (牧場物語2), is a farm simulation video game developed by Victor Interactive Software and published by Natsume for the Nintendo 64 video game console, and the third game in the Story of Seasons series (following Harvest Moon GB).[2] It was first released in Japan on February 5, 1999, and was later released in North America on December 22, 1999.[1]
Natsume initially stated bringing it to Wii U Virtual Console was not possible due to unknown technical issues,[3] despite the Wii proving the task to be possible through homebrew emulation. However, in celebration of the series' twentieth anniversary, the game abruptly saw release on the Wii U Virtual Console on February 23, 2017.[4] This also marked the game's debut in the PAL regions (the original had been cancelled due to time constraints), as well as the game's first official re-release (as well as the first time digital) in nearly two decades.
The objective of Harvest Moon 64 is to restore and maintain an abandoned farm left to the player by their grandfather. Along with restoring the farm, there are a number of other side quests that the player may choose to partake in, including training and racing a horse, selling crops, participating in a variety of town festivals, falling in love and getting married, collecting recipes, and collecting photographs from various achievements and events.[5]
The player starts out with the bare minimum features for the farm, including an empty chicken coop and barn, but animals and house extensions can be purchased and tools can be upgraded over the course of the game. The local town, where most of the villagers spend their day, contains a church, a bar, a bakery, a town square, a flower shop, a library, a tool shop, among other things.[6]
Unlike the original Harvest Moon for the SNES, there is a limited amount of time to work in any given day as well as a limited amount of stamina for work.[7] Many game features, such as character locations and which shops are open, vary depending on the current time and day of the week. There are four seasons per year, each with its own weather patterns, crops to grow, and wild herbs available. Some days are reserved for festivals, where every shop is closed and special events take place. This offers a break from daily chores and a chance to interact with the townsfolk in unique ways, such as dancing or swimming