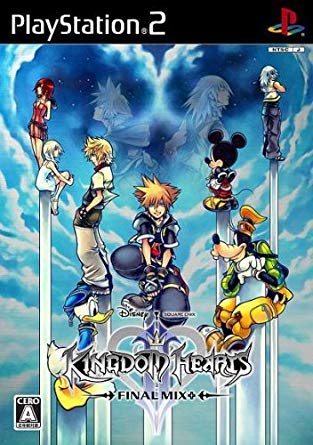 Kingdom Hearts Final Mix was a previously Japan-exclusive reissue of Kingdom Hearts, released on December 26, 2002. Final Mix was released in other territories with Kingdom Hearts -HD 1.5 ReMIX- in 2013. The game uses English voice acting with Japanese subtitles among additional in-game features.
Limited releases
Pre-order goods
Depending on what store the game was pre-ordered, customers could get a CD containing tracks from the game or a playing card set adorned with Kingdom Hearts characters and symbols. At some stores in Japan they were giving away a dual Keyblade embroidered necklace with a pre order.
Kingdom Hearts Final Mix Platinum Limited
Kingdom Hearts Final Mix Platinum Limited came in a box containing the game case, a sheet of eight Kingdom Hearts stickers; a postcard calendar featuring Tetsuya Nomura artwork and– contained in a CD case– a block figure of Sora, part of Square's Minimum Collection; and three can badges. The set costs 8,800 yen.
Kingdom Hearts 1.5 HD ReMIX
Kingdom Hearts Final Mix is included in the Japanese, European, North American, and PAL region releases of Kingdom Hearts 1.5 HD ReMIX. The Japanese version has English-voiced cutscenes changed to Japanese, along with unvoiced cutscenes, while the other distributions have English voices and texts, as well as the unvoiced cutscenes added to this