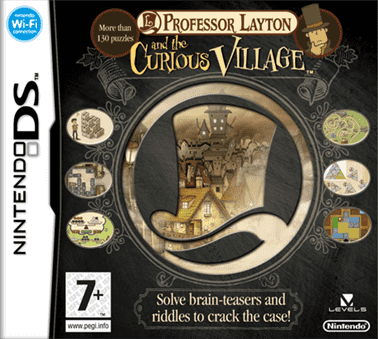 A unique puzzle gaming experience on the Nintendo DS.
• Stylus controls get you hands on with tons of puzzles
• Clever puzzles combine with a charming storyline
• A unique cast of characters brings the story to life
In the curious village of St. Mystere, townsfolk greet each other with riddles, lock their doors with sliding puzzles, and hide their secrets within brainteasers. When a wealthy baron passes away, his will reveals an elusive treasure hidden someplace inside the village. Now it's up to Professor Layton to untangle St. Mystere's riddles and puzzles, find the hidden treasure, and crack the case.
As of May 20, 2014, the Nintendo Wi-Fi Connection service for Nintendo DSi and Wii systems has been retired. Online features of this game are no longer available after this date but this game still provides an entertaining experience in offline mode.