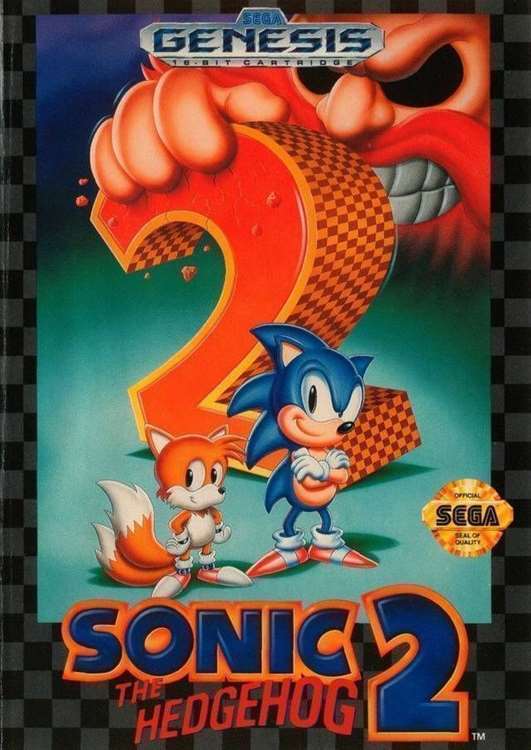 Sonic the Hedgehog 2[a] is a platform game developed and published by Sega for the Sega Genesis console, released worldwide in November 1992. It is the second main entry in the Sonic the Hedgehog series, and introduced Sonic's sidekick, Miles "Tails" Prower, controllable by a second player. In the story, Sonic and Tails must stop series antagonist Dr. Ivo Robotnik from stealing the Chaos Emeralds to power his space station, the Death Egg.
Development of the game began in November 1991. The game was developed by both Japanese and American staff at Sega Technical Institute; art director Tim Skelly designed the appearance of the game's new 3D special stages, which were based on an earlier tech demo created by Yuji Naka. The staff increased the speed of Sonic the Hedgehog 2 in comparison to its predecessor. As with the first installment, the soundtrack was composed by Masato Nakamura.
Sonic the Hedgehog 2 sold over six million copies, making it the second-best-selling Genesis game behind the original Sonic the Hedgehog. It received highly positive reviews from critics, who commended the game's level design and visuals, although its multiplayer mode was criticized. It has been rereleased on various platforms; a remastered version developed using the Retro Engine released on iOS and Android in December 2013. Two direct sequels, Sonic the Hedgehog 3 and Sonic & Knuckles, were released in 1994.
The game's premise is similar to that of the original Sonic the Hedgehog. Sonic's nemesis, Dr. Ivo Robotnik, is planning world domination through the power of the Chaos Emeralds and an army of robots powered by trapped animals. Specific to this game, he is additionally constructing an armored space station known as the Death Egg (a parody of the Death Star), also for the means of world domination.[3]
The events of the game see Sonic and Tails chasing Robotnik through West Side Island, and eventually up to the Death Egg, pursuing him with Tails' biplane, the Tornado. The plane is damaged after being shot at, but Sonic still manages to infiltrate the Death Egg, alone. Once there, he battles a robotic imposter before taking on Robotnik, who is piloting a giant mech. Sonic manages to defeat the robot and it explodes, damaging the Death Egg and knocking it out of orbit. Sonic falls to the ground and is saved by Tails in the Tornado. If the player has collected all of the Chaos Emeralds, Sonic, in his Super Sonic form, flies alongside it.