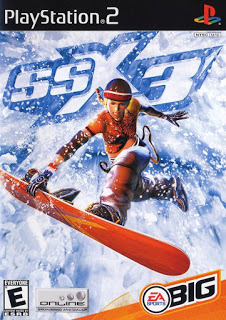 SSX 3 is a snowboard racing game developed by EA Canada and published under the EA Sports BIG brand. The game was initially released on October 20, 2003 for the GameCube, PlayStation 2, and Xbox. It was later ported to the Game Boy Advance by Visual Impact on November 11, 2003 and to the Gizmondo by Exient Entertainment on August 31, 2005 as a launch title. It is the third installment in the SSX series. The game has become part of the Xbox backwards compatibility program and an enhanced version was released on the Xbox One on April 17, 2018.
Set on a fictional mountain, the single-player mode follows snowboarders competing in the SSX Championship. Players choose from a variety of characters and take part in various events in different locations, earning points and money by performing tricks, winning races, completing goals and finding collectables. Money can be used to upgrade character attributes, buy new clothes and boards, and unlock music and extras. Multiple players can play against each other in local multiplayer modes, and an online multiplayer mode also allowed players to connect to games and play against each other online on the PlayStation 2 version of the game, but has since been discontinued.
Development of SSX 3 initially began in 2001 following the release of the previous title in the series, SSX Tricky. The development team was composed of people from various different employment backgrounds, including an Oscar-nominated visual effects designer who worked as one of the game's art directors. The game includes 30 different types of snow and general visual improvements over the previous game, such as enhanced models and shadows. It was initially confirmed through a trailer in NBA Street Vol. 2 in 2003.[4] A soundtrack album, SSX 3 the Soundtrack, was released on September 30, 2003.[5]
SSX 3 was critically acclaimed, with reviewers praising the game's open world, trick system, presentation and soundtrack. It was the first game in the SSX series to sell 1 million copies. IGN's Douglass C. Perry called it the best snowboarding game he had ever played, stating that it "expands upon Tricky in every way".[6] GameSpot's Greg Kasavin said that it "delivers a rush like few racing games or action sports games have ever achieved", recommending it not only to veterans, but also for novices of the series.[7] It received the Academy of Interactive Arts and Sciences' awards for Console Action Sports Game of the Year and Outstanding Achievement in Licensed Soundtrack.