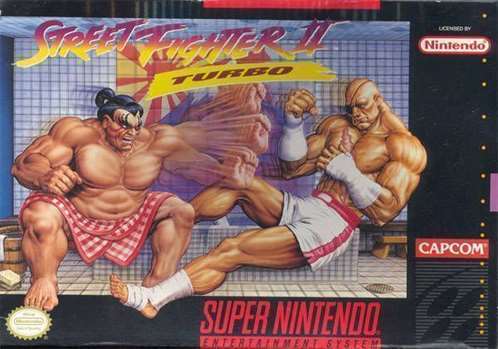 A port was released for the Super Famicom on July 11, 1993 in Japan,[b] and for the Super NES in August 1993 in North America and October 1993 in the PAL region.[4] The port was developed using the SNES port of the original Street Fighter II as its base, but with a larger cartridge size of 20 Megabits. Despite being titled Turbo, this port also contains the Champion Edition version of the game in the form of a "Normal" mode. The game's playing speed is adjustable in Turbo mode by up to four settings by default, with a cheat code that allows up to six faster settings. Other cheat codes allow players to enable and disable special moves in Versus mode, as well as play through the single-player mode with all of the special moves disabled.
The pitch change in the characters' voices when they perform a variation of their special moves based on the strength level of the attack was removed, but the voice clips of the announcer saying the names of each country were restored, along with the barrel-breaking bonus stage that was removed in the first SNES port. The graphics of each character's ending were changed to make them more accurate to the arcade version. Sound effects featuring people or animals shouting after a round ended were added as well, an aesthetic element that was not present in the arcade version of Hyper Fighting, but rather was added in Super Street Fighter II.
Nintendo re-released Hyper Fighting in September 2017 as part of the company's Super NES Classic Edition.