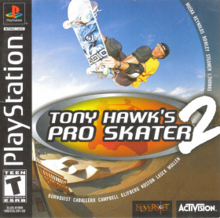 Tony Hawk's Pro Skater 2 is a skateboarding-simulation video game developed by Neversoft and published by Activision. It is the second installment in the Tony Hawk's series of sports games and was first released for the PlayStation in 2000, with subsequent ports to the Microsoft Windows, Game Boy Color, and Dreamcast the same year. In 2001 the game was ported to the Mac OS, Game Boy Advance, Nintendo 64, and Xbox (as part of the Tony Hawk's Pro Skater 2x collection). The Game Boy Advance version was also released in Japan as SK8: Tony Hawk's Pro Skater 2. The game was later ported to Windows Mobile and Windows Phone devices in 2006 and to iOS devices in 2010.
Tony Hawk's Pro Skater 2 uses the same game engine as its predecessor while improving the graphics and the gameplay, most notably with the introduction of manuals and cash rewards. The game takes place in a three-dimensional urban environment permeated by an ambience of rock and hip-hop music. The player takes control of a variety of famous skateboarders and either performs skateboarding tricks or collects certain objects. The game offers several modes of gameplay, including a career mode in which the player must complete objectives and evolve their character's attributes with earned profits, a free-play mode in which the player may skate without any given objective, a multi-player mode that features a number of competitive games, and a level editor that allows the player to create customized levels.
Tony Hawk's Pro Skater 2 was critically acclaimed upon release and remains one of the highest-rated video games of all time, as well as the highest-rated sports video game. All versions of the game were praised, including its addictive gameplay, large environments, detailed graphics, fluid and precise controls, customization features and punk/hip-hop soundtrack, with some minor criticisms directed at the lack of a first-person camera and the truncated soundtrack of the Nintendo 64 version.