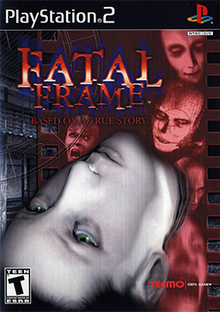 Fatal Frame[a] is a survival horror video game developed by Tecmo for the PlayStation 2. The first installment in the Fatal Frame series, it released in 2001 in Japan and 2002 in North America and Europe. An enhanced port for the Xbox was released in 2002 in North America and 2003 in Japan and Europe. The game was published for both systems by Tecmo in Japan and North America. In Europe, the PlayStation 2 version was published by Wanadoo, and the Xbox version by Microsoft. It was re-released in North America on the PlayStation Network in 2013.
Set in the year 1986, the story follows siblings Miku and Mafuyu Hinasaki. When Mafuyu disappears while searching for a famous novelist in the haunted Himuro Mansion, his sister Miku goes to find him. During her exploration of the mansion, she discovers clues as to the fate of those who entered, must fight hostile ghosts, and discover the truth behind a dark ritual that took place there. The gameplay focuses on the siblings exploring the mansion, and fighting off hostile ghosts using a special camera.
Development began after the PlayStation 2 hardware was introduced to Tecmo, using the codename "Project Zero". The concept was created by Makoto Shibata based on his own spiritual experiences. Together with producer Keisuke Kikuchi, Shibata worked on creating the scariest gaming experience possible. Multiple aspects of its style and production were influenced by this development wish. First announced in 2001 under its working title, it was eventually announced for release in Western territories a month after its Japanese release, where it was marketed as being based in a true story. The game received generally positive reviews, while the port drew praise for its improved visuals. As of 2015, four more games in the Fatal Frame series have been released.