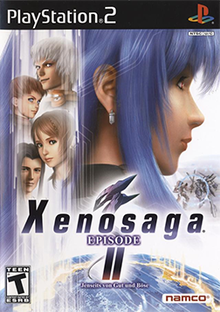 Xenosaga Episode II: Jenseits von Gut und Böse[a] is a role-playing video game developed by Monolith Soft for the PlayStation 2. It was published in Japan (2004) and North America (2005) by Namco, and in Europe by Sony Computer Entertainment Europe (2005). It is the second entry in the Xenosaga trilogy, and forms part of the wider Xeno metaseries. Continuing directly from the events of Xenosaga Episode I, Xenosaga Episode II sees protagonists Shion Uzuki and Jr. continuing to combat the plots of the U-TIC Organization and the insane Albedo Piazzolla. Gameplay is carried over from the first game, featuring exploration of environments through a linear narrative, while battles follow a turn-based system featuring a system of button combinations, multiple leveling systems, and combat featuring both the characters on foot and piloting large mecha called "E.S.".
Development of Xenosaga Episode II began following the completion of Episode I. Series creator Tetsuya Takahashi gave control of the Xenosaga series to a new development team, resulting in a number of changes. The gameplay system was redesigned based on feedback from Episode I. The scenario, written by Norihiko Yonesaka, was based on the original draft by Takahashi and Soraya Saga, with Episode II being Saga's last contribution to the main trilogy. The music was composed by Yuki Kajiura and Shinji Hosoe, who worked separately on the cinematic and gameplay soundtracks respectively.
Upon release, the game received praise from critics, with the majority of criticism going towards some of its altered gameplay mechanics. Despite strong sales in both Japan and North America, it failed to meet projected sales targets. Alongside Episode II, the staff expanded the Xenosaga series into other projects. A portion of the planned Xenosaga narrative by Takahashi and Saga was made into Xenosaga: Pied Piper, released in 2004 for mobile devices. The game was remade along with Episode I as part of Xenosaga I & II for the Nintendo DS. The final Xenosaga game, Xenosaga Episode III, was released in 2006.