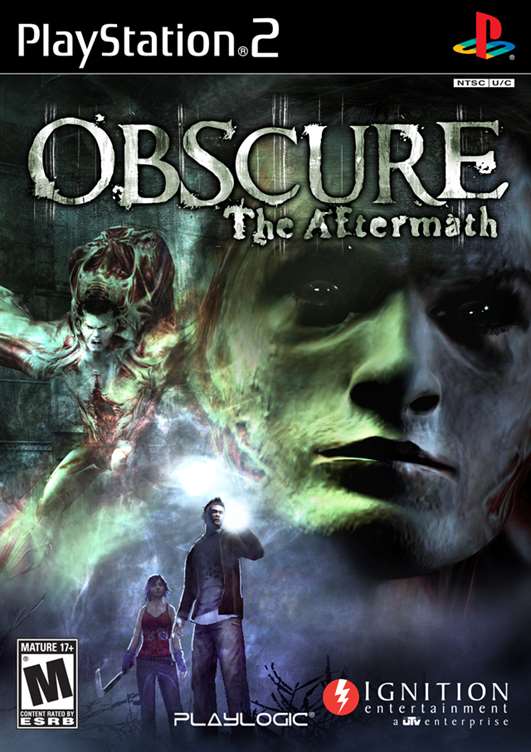 Obscure II (known in North America as Obscure: The Aftermath) is a survival horror video game developed by Hydravision Entertainment and published by Playlogic in PAL regions and Ignition in North America for Microsoft Windows, PlayStation 2 and Wii. It is the sequel to the 2004 video game Obscure. A PlayStation Portable version was released in 2009. The game was later released on Steam in 2014.
Storyline
The story is set two years after the "Leafmore Incident" (the events of the first Obscure); Shannon and Kenny are now enrolled in the nearby Fallcreek University, while Stan is reforming his life as a Delivery Truck Driver. Stan and Kenny have to take medication to prevent the effects of the plant from infecting their bodies, while Shannon has been able to adapt to the changes.
As the story begins, a new drug created from a strange flower is quickly spreading its influence over the University's populace. Soon enough, a small group of students, along with the Leafmore High survivors have to face a horde of mutants and try to stay alive.
The spores spread through the whole city and later the whole country. The outbreak starts in a fraternity party of the ΔΘГ brotherhood. Amy and Kenny are the first ones to arrive, only to find the place infected when they get inside. The students then meet a scientist, Richard James, who is the biology teacher of the university, who aids the player several times. After some time, the group is joined by Corey and Mei who try to escape.
Once outside, Sven is almost run over by someone driving Corey's car so Corey and Amy chase the car thief into the woods. Meanwhile, Mei, who gets a call from her twin sister Jun, goes with Sven to rescue her, but fails as Jun is killed by a monster.
The duo finds Corey's car, however its owner gets angry and, along with Amy, kills the now mutated thief. After some more walking they notice a disfigured man, fight some new monsters (Harpies) and walk through the forest to eventually end up in the "Fallcreek University Hospital", where they find Shannon and her brother Kenny, the latter of whom is badly ill due to sniffing the drug made by the black spore flower. He can't find his medicine and eventually succumbs, turning into a monster.
FILE SIZE: 1.3GB