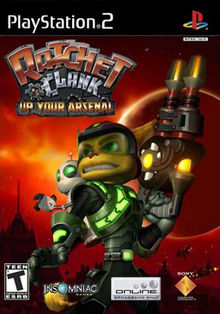 Ratchet & Clank: Up Your Arsenal (known as Ratchet & Clank 3 in Europe and Japan and Ratchet & Clank 3: Up Your Arsenal in Australia) is a 2004 3D platform video game developed by Insomniac Games and published by Sony Computer Entertainment for the PlayStation 2. It is the third installment in the Ratchet & Clank series and was released in North America on November 3, 2004. Shortly after it was released in Japan on November 25, when the first volume of the Ratchet & Clank manga, drawn by Shinbo Nomura, was released. A demo of this game was included in Sly 2: Band of Thieves.
The gameplay is similar to previous games in the series but introduces new features such as a new control system and more levels in the upgrade system for weapons. It follows Ratchet and Clank's adventure through a fictional universe to defeat a robotic villain, Dr. Nefarious, who intends to destroy all organic life. Characters such as Dr. Nefarious and Sasha, a Cazar starship captain who helps Ratchet throughout the game, are introduced, and a number of characters return from the original Ratchet & Clank.
Up Your Arsenal is the first in the series to offer online multiplayer as well as single-player. The service was terminated for the PlayStation 2 in June 2012, however the PlayStation 3 HD version features the online mode. The service was terminated for the PlayStation 3 in February 2018. Multiplayer features three different modes of play available on all of the maps and has a selection of the weapons from the single-player game. As well as the multiplayer mode, it has many other differences compared to its predecessors such as higher quality graphics, larger worlds, and drivable vehicles. The voice cast from the previous game return as their respective characters, and new actors were hired to voice the new characters.[2][3]
The game was met with critical acclaim upon release, earning an average review score of 91% at Metacritic