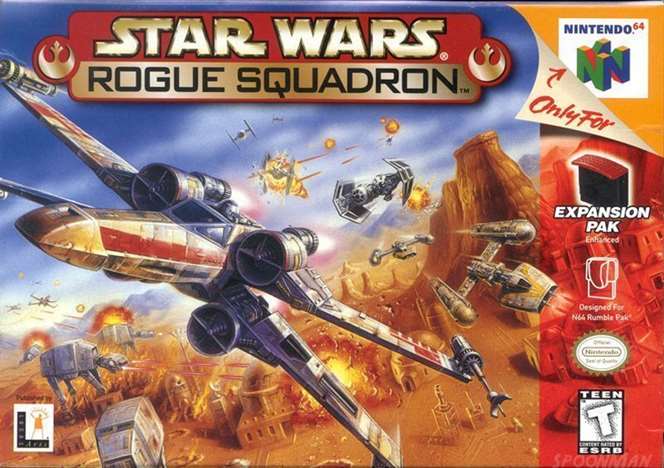 Star Wars: Rogue Squadron (known as Star Wars: Rogue Squadron 3D on the PC) is an arcade-style action game co-developed by Factor 5 and LucasArts. The first of three games in the Rogue Squadron series, it was published by LucasArts and Nintendo and released for Microsoft Windows and Nintendo 64 in December 1998. Rogue Squadron was one of the first games to take advantage of the Nintendo 64's Expansion Pak, which allows gameplay at a higher display resolution.
Set in the fictional Star Wars galaxy and inspired by the Star Wars: X-wing Rogue Squadron comics, the game takes place primarily between events in the films Star Wars and The Empire Strikes Back. The player controls Luke Skywalker, commander of the elite X-wing pilots known as Rogue Squadron. As the game progresses, Skywalker and Rogue Squadron fight the Galactic Empire in sixteen missions across various planets.
Rogue Squadron received generally positive reviews. Critics praised the game's technical achievements and flight controls, but its use of distance fog and the lack of a multiplayer mode drew criticism. The game's sales exceeded expectations; by August 1999, more than one million copies had sold worldwide. It spawned two sequels developed and released for the GameCube—Star Wars Rogue Squadron II: Rogue Leader and Star Wars Rogue Squadron III: Rebel Strike—as well as Star Wars: Episode I: Battle for Naboo, a spiritual successor released for Windows and Nintendo 64.