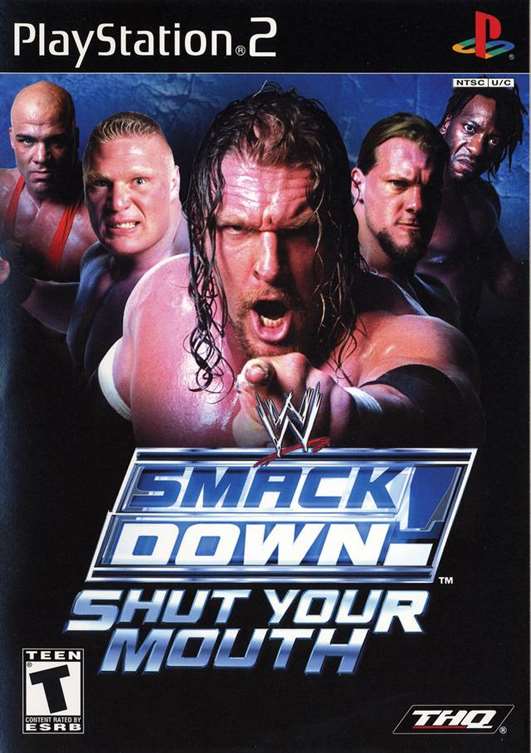 WWE SmackDown! Shut Your Mouth (Known as Exciting Pro Wrestling 4 in Japan) is a professional wrestling video game released on the PlayStation 2 console by THQ and developed by Yuke's. It is part of the WWE SmackDown! video game series based on the professional wrestling promotion World Wrestling Entertainment (WWE). This game was the sequel to WWF SmackDown! Just Bring It and was succeeded by WWE SmackDown! Here Comes the Pain It is also the first game in the series named under the "WWE" banner.
Gameplay
Season mode was lengthened to two in-game years and features the Brand Extension featuring Ric Flair's Raw and Vince McMahon's SmackDown! For the first time, only WWE superstars could participate in "season mode". Players compete exclusively on the show they are drafted to for the first few months of year one, consisting of four Raw or four SmackDown! events, plus a monthly pay-per-view (PPV) event. If the player's character is a created superstar, or if the original superstar has a rating lower than 60, he will instead wrestle on Sunday Night HEAT. Eventually, the player will be booked on the two major TV shows, appearing on two Raw and two SmackDown! shows and the PPV event. One of the featured storylines is based on the nWo of early 2002 that included Hulk Hogan, Kevin Nash, and X-Pac (who replaced the released Scott Hall).[citation needed]
Like its predecessor WWF SmackDown! Just Bring It, Shut Your Mouth's championships cannot be contended for in "exhibition mode" and can only be defended in "season mode". All of the major titles of the time, except for the WWE Women's Championship, are included in the game: WWE Undisputed, Intercontinental, European, Tag Team, Cruiserweight, and Hardcore championships. Various unlockables such as alternate player attires, extra movesets, and arenas be unlocked through "season mode".