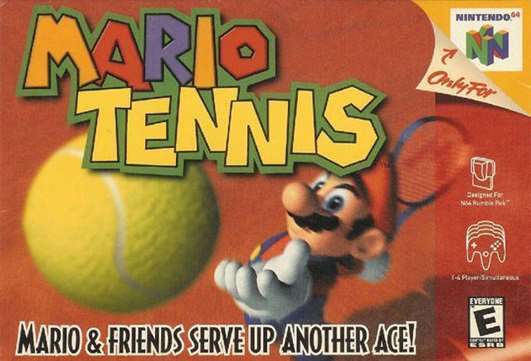 Mario Tennis, known in Japan as Mario Tennis 64 (マリオテニス64 Mario Tenisu Rokujūyon), is a sports video game developed by Camelot Software Planning and published by Nintendo for the Nintendo 64 video game console. The game was released in North America and Japan in the summer of 2000, and released in Europe later in November. It is the first tennis-based game starring Mario since Mario's Tennis, and the second game developed by Camelot on a Nintendo system. The game is known for being the introduction of Luigi's evil doppleganger, Waluigi, and the re-introduction of Princess Daisy and Birdo.
Mario Tennis was re-released on the Wii Virtual Console in 2010 and on the Wii U Virtual Console in 2015. The game's success led to four sequels: Mario Power Tennis released for the GameCube in 2004, Mario Tennis Open released for the Nintendo 3DS in 2012, Mario Tennis: Ultra Smash released for the Wii U in 2015 and Mario Tennis Aces which was released for the Nintendo Switch in 2018.
Characters and Transfer Pak features
Marking the sixth Mario game for the Nintendo 64, Mario Tennis brings eleven new characters to the Mario Tennis franchise, including Waluigi (which is his first appearance in the Mario series overall), Princess Daisy, Wario, Shy Guy, Donkey Kong and Birdo.
Through the use of a Nintendo 64 Transfer Pak, players are able to import their characters from the Game Boy Color (GBC) version of Mario Tennis to the N64 game, as well as the characters' stats. After connecting Mario Tennis for GBC with Mario Tennis for the Nintendo 64, various options become available; Yoshi, Wario, Waluigi and Bowser can be sent to the GBC version, and the GBC version characters Alex, Harry, Nina and Kate can be transferred to the Nintendo 64 version. Using the latter four characters, experience points may be earned to transfer back to the GBC version. As the characters go up in levels, one may send his or her improved characters to the N64 version to level up again.
A variety of tennis courts can become available to unlock in the Nintendo 64 version after linking with the Game Boy Color version.
On the Virtual Console versions, the Ring Tournament mode in Special Games in the N64 version cannot be highlighted and the ability to unlock extra characters and courts through the Transfer Pak in the GBC and N64 versions has been removed, and Linked Play, and erase N64 data, and N64 Tennis data and N64 Tournaments in the GBC version cannot be selected.