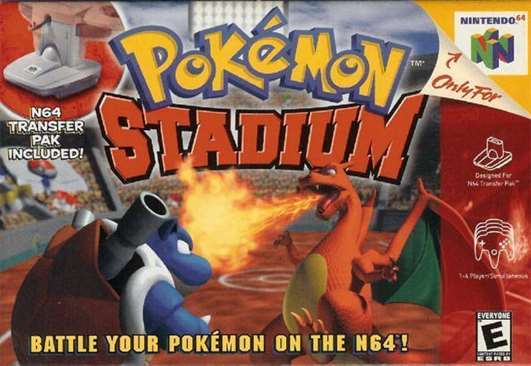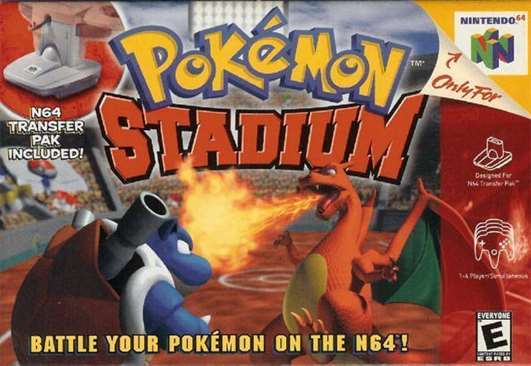 Pokémon Stadium, released as Pokémon Stadium 2 in Japan, is a strategy video game developed and published by Nintendo for the Nintendo 64 video game console. First released in Japan in April 1999, it was later released as the first Stadium title in Western regions the following year, and is a sequel to the Japanese-only 1998 Nintendo 64 release Pokémon Stadium. The gameplay revolves around a 3D turn-based battling system using the 151 Pokémon from the Game Boy games Pokémon Red, Pokémon Blue, and Pokémon Yellow.
Using the Transfer Pak accessory that was bundled with the game, players are able to view, organize, store, trade, and battle their own Pokémon uploaded from Pokémon Red, Pokémon Blue, and Pokémon Yellow. One of the main focuses of the game is the completion of the four stadium cups, each of which is a series of three-on-three Pokémon battles against an ordered lineup of opponents. Another battle mode called Gym Leader Castle allows battles against the eight Kanto gym leaders and the Elite Four. Other features of Pokémon Stadium include mini-games, versus-style battles, a hall of fame, compatibility with the Game Boy Printer, and a built-in emulation function for Pokémon Red, Pokémon Blue, and Pokémon Yellow.
Pokémon Stadium went on to become one of the Nintendo 64's best-selling titles, reaching one million copies sold before the end of 2000. Critical reception of the game was mixed, with critics praising the game's visuals but finding fault with the audio quality. A sequel, Pokémon Stadium 2, was released in English-speaking regions in 2001 as a counterpart for the next-generation Pokémon Gold, Pokémon Silver, and Pokémon Crystal games.